The Saterfiels

TheSaterfiels.com

Genealogy of the Saterfiels of West Monroe, LA

William Marion Cowan

(maternal great-grandfather of Lillian Arrant Saterfiel)

b. 27 Sep 1841 in GA

m. 7 Feb 1866 to Leanner Rogers, West Monroe, Ouachita Par., LA

d. 3 Apr 1887 at West Monroe, Ouachita Parish, LA

bur. in Rogers Cemetery near Okaloosa, Ouachita Parish, LA

Son of

Elijah Cowan (b. abt 1800 in N Carolina)

and

Sarah Ann (Unknown) (b. abt 1813 in GA)

Children of William Marion Cowan and Leanner Rogers Cowan

F i Sarah Elizabeth Cowan was born on 11 Feb 1867

M ii John C. Cowan was born about 1869

F iii Senola Cowan was born on 9 Sep 1870

F iv Clara Cowan was born about 1874

(all born in West Monroe, Ouachita Parish, Louisiana)

m. (2) 18 Dec 1880 T M Roberts (b. About. 1860) in West Monroe, LA 

Children of William Marion Cowan and T. M. Roberts

Thomas Eugene Cowan b. 23 Sep 1884 in OUACHITA, LOUISIANA

Manuel Cowan b. Aug 1885 in LOUISIANA 

Additional Sources

http://beejay1.tripod.com/pafg180.htm#4471

http://www.gencircles.com/users/mchenry/11/data/489

http://www.findagrave.com/cgi-bin/fg.cgi?page=gsr&GScid=2355993

Close this page to return to previous page

Individual names highlighted in green are ancestors of the Saterfiels of West Monroe, LA

Re: Rogers Cemetery,

near Okaloosa,

Ouachita Parish, LA

There are only five monuments.

Sarah Elizabeth Cowan Mayes, her parents William Marion Cowan and Leanner Rogers Cowan, and Sarah's grandparents, John Cloud Rogers and Elizabeth Tharp Rogers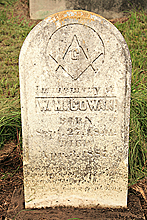 Grave of William Marion Cowan.  Click here for larger photo of the Rogers family cemetery where he and his wife and daughter are buried.